The American Academy of Pediatric Dentistry recommends that children see a dentist no later than their first birthday. This first visit enables Dr. Bird, to evaluate your child's teeth and discuss proper oral hygiene, diet, fluoride, tooth eruption, and finger or pacifier habits with you. By following this guideline, you and your child will establish a relationship with Dr. Bird, her associate, and our team so you can feel comfortable seeking routine and/or emergency dental care at Bird Pediatric Dentistry as your child ages. Starting dental appointments early will help prevent problems in the future and will help to ensure a positive attitude toward dental care.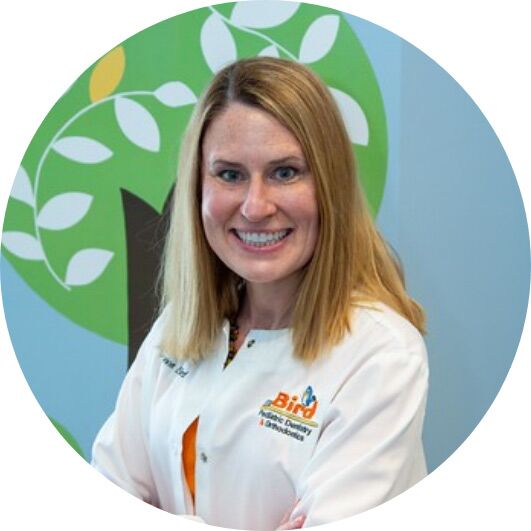 Many parents choose a pediatric dentist for their child's dental needs, just as they prefer a pediatrician for their child's medical needs.
Dr. Bird, is a specialist who have completed two years of additional training after becoming general dentists to meet the unique dental needs of infants, children, and teens. Dr. Bird, her associate, and their team are committed to making your child's experience safe, comfortable, educational, and fun.
Dr. Bird and/or her associates will examine your child's teeth and determine if dental x-rays are needed. Our office uses state-of-the-art digital x-ray equipment for high-quality images with low radiation.
Dr. Bird and her associates make treatment recommendations based on what they believe is in your child's best interest. Sealants are placed on permanent teeth as they erupt to help prevent cavities from forming. If your child does get a cavity (it happens), we use it as a learning experience for your child.
As the parent, you are welcome to accompany your child into the treatment area during the initial exam. However, to better establish trust with your child and to encourage independence, we like them to come back by themselves when they feel comfortable, usually around age three. Expect your child to do well and enjoy their visit to our office and chances are they will do just that!
Please remember that sometimes young children cry when faced with new and unfamiliar situations. This is a normal reaction and we will work to help your child overcome any apprehension they might have so that they have a positive attitude towards dental treatment as they grow up.